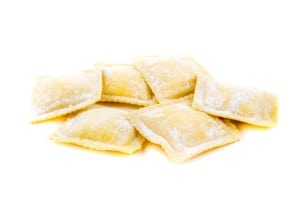 Fresh Ravioli
Simple, Slow, Wholesome
Vera Pasta's fresh ravioli are made with a blend of spices and herbs delicately packed into egg-yolk dough. Our seasonal fillings consist of pumpkin, spinach, shrimp, veal, mushroom and other timely ingredients.
Note about
Our ravioli can be purchased (per dozen) at local farmers' markets. Please keep in mind that the availability of flavors and types is subject to change from week to week, depending on the seasonality of fresh ingredients.
Vera Pasta also supplies wholesale pasta and ravioli to a myriad of clients, including restaurants/hotels, specialty stores, online grocery stores, private labels and farmers' market venders. If you're interested in a gourmet pasta partnership, please contact us and we'll provide you with fresh flavors and types that are currently available.
Fill out this form to inquire about our fresh ravioli, and one of our artisan enthusiasts get back to you as soon as possible.
Keep a hungry eye out for some of our most popular ravioli flavors, including:
Wild Mushroom & Sage Ravioli
Goat Cheese, Figs & Rosemary Ravioli
South Philly Sausage & Peppers Ravioli
Roasted Pumpkin Ravioli
NEW! Sautéed Escarole, Tuscan Beans & Pecorino Ravioli
Spinach, Roasted Garlic & Pecorino Ravioli (spinach dough)
Traditional Ricotta Ravioli
Crab Cake Ravioli
Lobster Ravioli