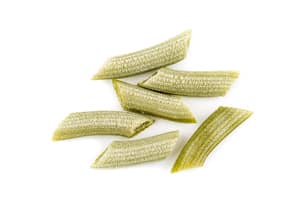 Artisan Dry Pasta
Simple, Slow, Wholesome
Vera Pasta's assorted dry pasta line is created with the same artisanal, Italian-borne philosophy as our fresh pasta, but with the convenience and versatility that modern pasta appassionatos know, love and need.
Note about
Our dry artisan pasta can be purchased (per pound) at our store, as well as local farmers markets and specialty storefronts online.
Vera Pasta also supplies dry pasta for wholesale orders to a myriad of clients, including restaurants/hotels, grocery/specialty retail stores, online storefronts, private labels and farmers market vendors. If you're interested in a gourmet pasta partnership, please contact us and we'll provide you with current selections, samples and specifics for ordering.
Restaurant Orders We sell our dry wholesale pasta loose.
Retail Orders We sell our dry wholesale pasta in one-pound packages ready for retail/private labeling.