The Vera Pasta Story Simple, Slow, Wholesome
Our fresh pasta is the mouthwatering culmination of a creative amalgamation – a mixture of modern innovation and traditional pasta-making techniques. It's unique and eclectic, but every aspect of our pasta-making can be traced back to Italia.
Using authentic and time-tested methods he absorbed during his remarkable exploration of Italy, Chef Joe D'Andrea crafts homemade artisan pasta that consistently engenders delicious descriptions, feedback, and reviews – from
genuine, delicate and superb" to "couldn't make it better ourselves."
Chef D'Andrea is emphatic about the diligence in the details – the simple ingredients, the slow process and the wholesome experience. And we'd love to share our gourmet pasta goodness with you.
Our Process
Simple: Natural Ingredients

In a food product as simple as pasta, using excellent flour is critical. Our flour is sourced from North Dakota, where some of the highest-quality Durum Semolina wheat is grown. The other ingredients we use are sourced locally, with an emphasis on small-batch productions. With respect to the artisan way, Vera Pasta does not use mass ingredients for any of our gourmet pasta products.

Slow: Artisan Process

Vera Pasta subscribes to the age-old technique of pasta extrusion, which originated in South Italy. "To extrude" means "to push out" or "to shape" ¬ – and it's this traditional method of extrusion that involves pushing dough through bronze dies, which hold the shapes of common pastas. This high-pressure, high-friction process causes microstriations (microscopic scratches) to form, making the pasta surface rough and "stickier" for sauces. This is a defining quality of artisan pasta extruded from bronze dies. After extrusion, the dough comes out in the pasta shapes, sizes and spirals we know and love.

Wholesome: Gastronomic Experience

Vera Pasta specializes in flavored gourmet pasta products, which are made with only the freshest seasonal produce. The flavors we add to our pastas not only enhance their natural tastes, but also complement sauces incredibly well ¬– giving rise to a wholesome gastronomic experience you (and your customers/clients) will never forget.
We specialize in artisan pastas which are made with only fresh, seasonal ingredients.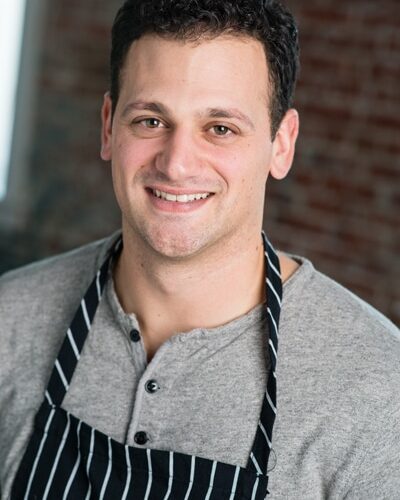 Vera Pasta owner, Chef Joe D'Andrea grew up in an Italian household in West Chester, PA. At an early age, Joe's passion for Italian cuisine was introduced to him by his grandmother, whose cooking style originates from the Abruzzi region in Italy.
In 2008, Joe graduated from West Chester University, receiving a BA in Business. Shortly after, in 2010, he enrolled into the Italian Culinary Academy in Manhattan where learned classical cooking techniques, along with Italian language and culture. During his time in Manhattan, Joe worked under Michelin Star chef, Cesare Casella, at Salumeria Rosi, where he was taught the intricacies and distinctive traditions of Tuscan cuisine.
In early 2011, Joe traveled to Parma, Italy to attend ALMA, The International School of Italian Cuisine. Upon completing school, he interned in Sorrento under the guidance of star Chef Nunzio Spagnuolo, learning everything from classical Italian techniques, regional ingredients, culture and language.
A few months after moving back home to West Chester, PA,  Joe started his business, Vera Pasta, in a mission to bring the simple, true flavors of Italy back home, and with a promise of quality and authenticity. Vera Pasta is dedicated to showcasing pasta and sauces from all regions of Italy, from the rich sophisticated north to the rustic bold south.